AJ - Brian - Howie - Kevin - Nick - Time Line - Group Bios - Home
a.k.a. Nicholas Gene Carter a.k.a. Nickolas Gean Carter a.k.a. Nicholas Gean Carter
Does he spell it Nicholas Gean? Click here to find out!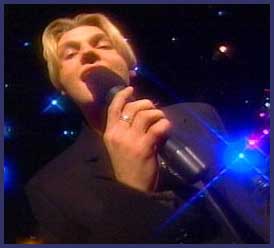 Quote: "I would like to thank the man above for Anything and Everything that he has done for this group."
Please feel free to email us with any updates or corrections to this bio.
Nick was born on January 28'th, '80. He is an Aquarius. His favorite food is pizza and he admits that he eats too much. His favorite beverage is Mountain Dew although many people have emailed me to say it's Coke. His favorite color is green.
He is a prankster down to the bone. He claims that the worst prank that he has ever pulled is giving his manager fish flavored gum. But, according to "Teen Machine" the group has had their revenge.
Nick had a small part in the movie "Edward Scissorhands".
"It would be going too far to say I was actually in Edward Scissorhands because I was so far in the background that you can't tell it's me. It would be better to say I was on the set of the film... I was in the scene when Edward looks out of a window to the neighbourhood. For a split second he sees some kids playing - one of them was me. I was sliding on a yellow piece of plastic we used to call a Slip n' Slide. They were long flat sheets with water coming out of holes and were really popular with kids at the time. I had to slide on one in the background of a shot. It was great fun being on the set but it was really cold and they made us do it a lot of times"
He wears glasses sometimes but not because he has to, because he wants to! Rumor has it that he wears prescription glasses and contacts. He prefers brunettes to blondes and rainy days and cloudy skies make him sad.
When interviewed on Much Music's Intimate and Interactive, Nick was the only member of the group who said he wears briefs. The other guys said that they wear boxers. Lately, he has stated that he now wears boxer-briefs.
Nick was born in Jamestown, NY. He moved with his family to Florida when he was 4. A total waterbaby, Nick has a scuba diving license and loves the beach (in fact, his dream-date takes place there!). One of his hobbies is boating but he doesn't get to do that very much these days because he is on tour most of the time.
Nick is a great drummer and spends lots of time jamming with his friends. He loves Nintendo and football.
Full Name
Nickolas Gene Carter
Nicknames
Nicky, Koas, Chaos, Mr. Hyper Man, Frack, Messy Marvin
Birthdate
January 28, 1980
Place of Birth
Jamestown, NY
Height
1.84m, 6' 2"
Weight
170 pounds
Hair
Golden Blonde
Eyes
Blue
Family
Mother Jane, Father Bob, Sister BJ, Leslie,and twins Aaron and Angel

Favorite Car
Prowler
First Ambition
Singing
Pets
3 or 4 cats named "Rocky" "Sugar" and "Bandit" and three dogs named "Samson" "Simba" and "Pepper" (Pepper's brother "Salty" lives with Nick's aunt
Favorite Colour
Forest Green
Instruments
Drums
Favorite Musical Artists
Steve Perry of Journey, Nirvana, Jodeci, Boyz II Men and Michael Jackson
Favorite Song
I Will Always Love You by The Cure
Favorite Food
Pizza
Favorite Drink
Mountain Dew - look at the picture of the fact sheet that he filled out on the third page of the Nick Name game
Astrological Sign
Aquarius
Favorite Movie
Aliens, Braveheart
Favorite Movie Actress
Sigourney Weaver
Favorite Movie Actor
Jeff Goldbloom
Favorite TV show
Mad About You, Beavis and Butthead, The X-Files, The Simpsons
Favorite Book
Living Free
Favorite Type of Clothes
Nike
Favorite Sports
Basketball, football, baseball
Favorite Cologne
Gravity
Favorite School Subjects
Science, History, English, PE
Least Favorite School Subjects
Math
Hobbies
Boating, fishing, drawing, basketball, collecting football cards, and playing video games
Deodorant
Speed Stick
Favorite Ice Cream Flavors
mint chocolate chip, chocolate-chip and cookie dough
Favorite BSB Song
Quit Playing Games (With My Heart)
What he looks for
in a girl

he likes girls who are older than him (darn!)
girls that are smaller
pretty
long dark hair
honest
loyal
very romantic
someone that loves him for who he is deep down inside
someone who is independent
fiesty with a great personality
good heart
most of all- his dream girl has to be natural, not too much makeup!!

Dream Date
the beach at night where the moon is full
AJ - Brian - Howie - Kevin - Nick - Time Line - Group Bios - Home