Click on one of the Boys in the image below for the scoop on your favorite BSB.

Time Line - Nick - Brian - Kevin - AJ - Howie - Exit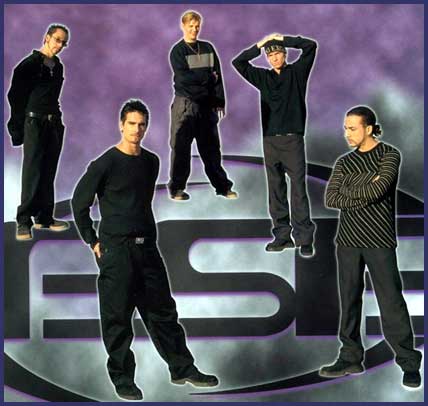 Fact Sheet
April 1993: Tates Creek High junior Brian Littrell joins cousin Kevin Richardson and singers Nick Carter, A.J. McLean and Howie Dorough to form Backstreet Boys, an Orlando-based group that got its name from a local teen hangout called the Backstreet Market.
1994: Backstreet Boys sign a recording contract with Jive Records.
October 1995: We've Got It Goin' On, the band's first single, is released in England and the United States. It peaks at No. 69 in the United States, No. 54 in the United Kingdom and No. 1 in Germany.
September 1996: Backstreet Boys, the group's first album, is released in England and peaks at No. 12, selling millions. The band develops a fervent European following.
June 1997: Quit Playin' Games (With My Heart), the group's first U.S. hit single, is released. It peaks at No. 2.
August 1997: The group releases its second album, Backstreet's Back, in the United Kingdom and a debut album in the United States, Backstreet Boys, that includes hits from the European debut plus material from Backstreet's Back. It becomes the third-best-selling album of 1998 and has sold 8.8 million copies.
May 1998: Brian undergoes successful open-heart surgery for a congenital hole in his heart.
May 1999: Backstreet Boys' second U.S. CD, Millennium, sets a first-week sales record: 1.1 million copies. It's sold 6.8 million copies in the U.S.
Aug. 14: Backstreet Boys sell out all dates on their North American tour in one day, including a Nov. 26 show at Rupp Arena.
Sept. 25: The group sells out an added-on Nov. 27 concert at Rupp in 24 minutes, breaking the old sell-out record of 31 minutes, set by Garth Brooks in April 1998.
-- Published Sunday, November 21, 1999, in the Lexington Herald-Leader
Click here to see an older Biography written by Gerald E. Brennan from the publication Contemporary Musicians, April 1998 (Volume 21)