AJ - Brian - Howie - Kevin - Nick - Time Line - Group Bios - Home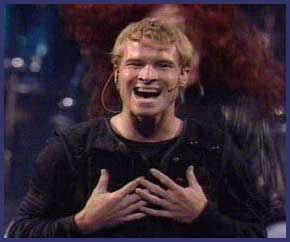 Quote: "Mom & Dad, you are always there beside me, behind me, and guiding me through all of life's ups and downs."
Special thanks to Katie Jewett for help in updating this bio.
Brian, is the sports lover (he adores basketball) of the group. He was born in '75 on Feb. 20th. He is a Pisces. He is scared of heights! His favorite food is mac & cheese.
Brian loves his kingsize waterbed bed that he bought for $50. He likes to sleep as much as possible. He learned how to sing when he was a boy in church. He performed in churches and wedding.
Brian is Kevin's cousin. They both grew up in Lexington, Kentucky. Brian was the 5'th member to join BSB. Brian wrote the song "That's what She Said". And has also co-wrote many other songs.
Brian says that he needs to "eat healthier and start taking better care of myself". Brian has been known to be a fingernail biter and he loves fast food. His resolution one year was to stop biting his fingernails and he says that he has stuck with it.
In the spring of 1998, Brian underwent elective surgery to correct a minor congenital heart disorder. The surgery was relatively simple and Brian came through with flying colours.
He got married to actress Leighanne Wallance on September 2nd, 2000. Leighanne had been in the BSB's As Long As You Love Me and All I Have To Give music videos. The wedding was well attended by 300 of their friends and family. For the honeymoon, they went to a private property on a island in the Caribbean. They want to have kids someday, but for now their focus is on their careers.
Full Name
Brian Thomas Littrell
Nicknames
B-Rok, Mr. Joker, Seaver, Frick
Birthday
February 20, 1975
Place of Birth
Lexington, KY
Current Residence
Atlanta, Georgia
Height
1.70 m, 5' 7"
Hair
Brownish - Blonde
Eyes
Blue
Family
His parents, Harold Baker Littrell II and Jackie, and his older brother Harold Baker Littrell III. Wife: Leighanne (Wallace) Littrell, Son: Baylee Thomas Wylee Littrell
Pets
Lil Tyke Thomas and Little Leigh (chihuahuas)
Musical Instruments
Trumpet
Favorite Musicians
Boyz II Men, Shai, Jodeci
Favorite Colour
Midnight Blue
Favorite Food
Macaroni and Cheese
Hobbies
Basketball, golf, going to the movies, dancing, singing, lifting weights, swimming
Biggest Fear
Heights
Bad Habit
Biting his nails
Astrological Sign
Pisces
Favorite TV Show
Friends
Favorite Movie
It's A Wonderful Life
Favorite Movie Star
Tom Hanks
Favorite Actress
Wife, Leighanne Littrell
Favorite Cologne
He doesn't wear colonge. He says he smells like his fav soap, Dove Body Wash
What he looks for
in a girl
He says he has already found it! But here it is; blonde or light brown hair, blue eyes, nice legs, long nails, intelligent, good sense of humor, determination, athletic with lots of energy, have her own dreams, interested in achieving goals, giving, open, trustworthy, willing to have fun
Dream Date
something simple, a picnic in the park or a walk on the beach
Profile Brian Littrell: The life of Brian
Published Sunday, November 21, 1999, in the Lexington Herald-Leader
By Heather Svokos, Herald-Leader Pop Culture Writer
Ten-year-old Brian Littrell is singing into a flashlight, a pillow case peeled back over his head, trying to simulate the look of long-haired rocker Jon Bon Jovi. His brother, Harold, 13, is Richie Sambora, wailing on his electric ... tennis racket.
Brian Littrell recalls the old family photo with a fond laugh. ``My brother was a big Bon Jovi fan,'' he said from his hotel room during the Backstreet Boys' Cincinnati tour stop. ``We were jamming to some Bon Jovi and enjoying life.
``We had a lot of good times. I never knew it would lead to this.''
Yes, to many other aspiring stadium rockers, the Bon Jovi wailfest might have lingered as a blush-inducing memory. But for Littrell, it would be a harbinger of the pop superstardom to come.
The Lexington native with Estill County cousin Kevin Richardson is part of Backstreet Boys, who, for those who have been in Pago Pago for the last three years, are a pop vocal quintet that has taken record sales, concert attendance and fan worship to levels that make New Kids on the Block look like a ragtag wedding band.
Rupp Arena dreamin'
In the early days of Backstreet, Littrell told a teen magazine his biggest career goal was ``to play a sold-out show at Rupp Arena.''
Well, welcome home, Brian how'd ya like two?
``It's been a lifelong dream to come to Rupp Arena to perform,'' said Littrell, 24. ``I just remember the feeling of being in that place. I'd go to University of Kentucky games with my friends. Now everybody is going to be coming to see us, so it's going to be a little different. ...
``I'm looking forward to all of my family that can be there. (When it comes to professional achievements), nothing really impacts you until it hits home. This is gonna hit home, big-time.''
When the hometown fans finally get to watch Littrell on stage, they'll see a sweet young man who flashes a familiar smile, clutching his heart, oozing enough nice-guy charisma to flood the arena.
He's widely (and endearingly) regarded as a scene-stealing hambone. At Tates Creek High, he was the classic class clown, always on the ready with an impression. One of his best, recall former choir buddies Eschelle King and Leslie Carter, was Jim Carey's Fire Marshall Bill from In Living Color. He'd muss his hair to achieve that singed look, curl his upper lip under until it disappeared and then wheeze: ``Let me tell ya somethin'!''Carter recalls his role as Rump in the school's production of Grease. ``He by far stole the show,'' she said. ``There were these dance numbers where he was just supposed to pop off a step, but he would do a full-fledged spread eagle and just dive.''
A born performer if there ever was one, right?
Playing with heart
Well ... It might have been his destiny to become a Backstreet Boy, but the youngest son of Jackie and Harold Littrell didn't exactly enter the world doing a step ball-change and whistling a happy tune.
He wasn't a sad baby, his mother said, but solemn, and very quiet. He was born with two holes in his heart and a heart murmur undiagnosed until he was 6 weeks old. The affliction became more serious when he was 5. The doctor's advice stuck with Jackie and Harold: ``Don't put him in a closet. If you put limits on him, he'll start putting limits on himself.' ''
It was then that something changed in Brian. After a two-month stay at St. Joseph Hospital, his behavior flip-flopped. ``It seemed like he laughed more and played harder,'' Jackie said. ``He was rambunctious always into something. He was always trying my patience.''
``If I told him not to go into the street, he would go to the edge of the yard and put one foot in the street. He was a stinker,'' she smiled, clearly more proud than miffed.
The little guy who loved sports was a scrapper, but he was never quite tall enough to make the high school basketball team, which was crushing. ``I was always counseling him, saying, `Maybe sports won't be your thing,' '' his mother said. ``He would look at me like, `Yeah, right.' ''
Nor did he appreciate then one of the consequences of his health problems having to repeat first grade.
``I was a little upset when my mom and dad held me back, but it was to my benefit,'' Brian said. ``Being smaller, it helped with my confidence'' to be a year older than his peers.
`Divine appointment'
He grew up in a family of golden throats that broke into harmony at the drop of a hat, especially during the holidays. So, to reach his current career path, it was only a matter of timing or as Jackie puts it, ``divine appointment.''
Now, he just needed someone to harness his talent. Enter Barry Turner, choir director for Tates Creek and Henry Clay high schools.
``The first time I heard him sing it was Edelweiss I heard this voice and I said, `My God, what is this?' ``You know how a thrill can go through you all of a sudden?''
Turner told Littrell he could make money singing. ``I was talking about weddings and things. I had no clue he was going to take off like that. But I'm not surprised.''
Not all signs pointed to a life of fame and fortune. Raised with strong Christian beliefs, Littrell wanted to attend Cincinnati Bible College and become a music minister, but he had to be a senior in high school to enroll.
Fortunately for the Jive record label and soon-to-be squealing girls all over the planet, fate intervened.
On April 19, 1993, toward the end of his junior year, he was called out of U.S. history class to take a call from cousin Kevin. There was a pop vocal group forming in Orlando, and it needed a fifth.
That would mean leaving school before his senior year and that Mom and Dad would have to let go of their 18-year-old son. The next day, after the band's management promised Brian would finish his education, Littrell was Orlando-bound.
``I didn't expect he would jump up and move away from me so quickly,'' Jackie Littrell said. ``Harold and I took him to the airport at 6 a.m. ... We put him on the plane almost knowing ... when he stepped on there,'' she struggled, allowing a few tears, ``that he wouldn't be coming back Brian Littrell, the son.''
Fame, what's your name
And in a way, she was right. Six years later, the level of the Backstreet Boys' fame is borderline frightening.
Brian hopes to be able to spend quality time with his family during the group's stay in Lexington. ``I'm going to try to get in for Thanksgiving,'' he said, ``try to get in a home-cooked meal'' and take in some football games with his dad.
Anymore, that's not so easy.
When you're part of a pop culture phenomenon, everyone wants a piece of you sometimes, that piece even includes a chunk of your family.
Because of unwelcome visits from fans in one case, two from Germany who rode up to Anne Richardson's house in a cab the Littrells and the Richardsons have had to move and change their phone numbers.
``It's kind of what you make of it,'' Brian said. ``Quick getaways, decoy cars it's all part of it. There's a fine line because we're dedicated to the fans and we know how successful they make you. At the same time, in your private life, there are boundaries that people don't really understand. To have people constantly think that you are their property and get a little too touchy-feely, a little too demanding ... .''
But don't think he's one of those woe-is-me, life-is-such-a-drag celebrities.
``God has blessed my life in many, many, many ways,'' he said. Fame ``is looked upon as so wonderful and it is not to downplay it, and the things it has allowed me to do, but at the same time I still want to be able to have a life.''
The pop-star life, though, hasn't stopped him from having a successful relationship. Brian has been dating actress Leighanne Wallace for about two years. They met on the shoot for the As Long as You Love Me video. ``It's like with any other relationship,'' Littrell said. ``There are ups and downs, but we respect what one another does. We prepared ourselves'' for a long-distance relationship.
No matter the realm, his friends say he'll go the distance.
``It amazes me how far he's come,'' said King, his old choir buddy. ``Writing songs, playing guitar when all is said and done, he's going to come out with a better understanding of himself.''
And with better acrobatic skills, no doubt. His brother, Harold Littrell III, says it's hard to comprehend that the guy flying in a harness above thousands of screaming fans is a family member.
But it all comes back home when he recalls the little brother who left his old world behind on a leap of faith. When Brian was on his way to Florida for the audition, he called his brother, worried he wouldn't be able to go through with it.
``I told him to hang in there and be tough, it'll work out,'' Harold said. ``He was just breaking away from home, so it was a little bit of a growing-up shock. But he handled it greatly.''
---
More B-Rok Trivia
he was born at 1:37 am.
another fave. colour is forest green
has 2 scars 1 from where his apendix was taken out and 1 from where he head butted a table when he was 12
the other members of the group say that he would be the member most likely to get married first
he hopes to get married in 10 years
Nick Carter is his best friend
another one of his nicknames is B
his blood type is B+
his fave colonges are "Safari" by Ralph Lauren and "Photo" by Lagerfield
his fave actress is Sandra Bullock
another fave singer is Bobby Brown
his hobbies are - weight lifting, collecting tennis shoes, basketball, water skiing, swimming, listening to music
he also plays guitar
he has a tattoo on his left shoulder
most people would be amazed to know he's just a normal guy
his fave things to wear are jeans and a t-shirt
AJ - Brian - Howie - Kevin - Nick - Time Line - Group Bios - Home