BSB Wannabees? You be the judge!
Fresh Step were featured on David Letterman's "The Late Show" on March 3'rd 1999. They were there to promote their new song Talk To The Hand which is supposed to be on the soundtrack for a new movie with the same title.
I snapped some pics of them because they reminded me of my favorite group. (I wonder who that could be?) I thought I would ask Backstreet.Net readers for their opinion so please vote at the bottom of this page.
After doing a little research I found out that there is not going to be a movie titled 'Talk To The Hand' starring Sarah Michelle Gellar and James Van Der Beek. The whole thing is part of a joke on the Letterman show to promote this satirical boy band! Some people are calling them Fresh Beef and Fresh Beef Stew.
Apparently they are all cast members (dancers) of the Broadway show "Footloose". Thay have also appeared on MTV's TRL.
As HppyDazi@aol.com put it:
I decided to do some research on "Fresh Step" also. I think they were on Total Request Live on MTV a while ago. I didn't see it, so I'm not sure if there was ever a real apperance there or not. But Carson Daily, the host of TRL, gets very sarcastic talking about "boy bands", not so much BSB, but more Nsync and Justin Timberlake.

I looked at the Fresh-Step site too...how FAKE is that?? Not professional at all and they have a HOTMAIL address? Weird.

A search on Infoseek for Fresh Step produced mostly kitty litter pages...I would honestly believe that if they were a legitimate group, that they might have at least some mentions on the internet?

I found it hard to believe that and actor such as James Van Der Beek would be in a movie called "Talk to the Hand"...I think he is way above that. Again, I searched and absolutly nothing.

My next instinct was to check out the trans con site...if this wasn't all a big Letterman scam, then suring Lou Pearlman may have had SOMETHING to do with this group. But, again nothing.

In my opinion, this is a sick joke to play...I mean there are kids out there believeing this group is real...and they also having people being that "Talk to the Hand" is a real movie.

Anyway, if all his is really true, I'll just eat my words!
Kat (kheffne1@tampabay.rr.com) wrote into say:
It's official... Fresh-Step is NOT a boy band, but a brand of KITTY LITTER!

I do not lie - just go to your local supermarket or pet supply store and you'll see on the shelf in a big plastic bag (usually bright yellow) "Fresh Step" brand cat litter. This came to my attention recently when I was at the home of my grandparents who own two cats. I went in to the laundry room to get a tablecloth and there was a big bag there with their other cat supplies.

This not only demonstrates that Fresh-Step is a ruse, but the fact that they're named after cat litter is even more insulting to boy bands and their fans. Comical, yet annoying.
Mabie (ozsgirl@yahoo.com) also wrote:
Hey there! About this whole FRESH STEP thing. I did a little research on the band... and I think they are fakes, some may not belive me but here's what got me the most:

Their new song is going to be on the soundtrack for a new "MOVIE" called "Talk To The Hand" right? Or is that wrong? You see I am the biggest "Buffy The Vampire Slayer "fan in the world. I know every movie, every little thing about my two fave charecters (not to mention they are my fave actors as well). These people are the talented Seth Green and Sarah Michelle Gellar. I also know all the movies they are in (I have a web site). Anyways the point of this is: there is NO movie what so ever that is being realesed with that title plus she is not working on a movie at the moment. She has 2 movies in the theaters at the moment (Cruel Intentions and Simply Irresitable).

She has no movies in the making at the moment and she just finished up the 2 above. So think about it... If there "is" a new Movie with her coming out when did she have the time to make it? She, at the moment, is not doing any movies, she is talking time off for a break and is going to go on vacation. And she IS NOT doing a movie with James Van Der Beek (Dawson's Creek)

Don't you think it is kinda hard to put a song on a sound-track if there is NO MOVIE? I'm just trying to get my point across...
A friend of Jeremy wrote in to say
I know for a fact that Fresh-Step is not a real band. "Jeremy" of this band, is Jeremy Kushnier, an old friend of mine from dance class at the Royal Winnipeg Ballet and from high school. (he was our student council president when he was in grade 12, and I was in grade 10) He is from Winnipeg, Manitoba, Canada.

He plays the leading role in the brodway musical "Footloose" and is friends with David Letterman. If you are a Letterman fan, you will have noticed that Jeremy has performed on his show once as a spokesperson for "Footloose" and has been in the audience many times where Letterman has pointed him out as "a special guest in the audience from the musical "Footloose".

At any rate, most of the other "members" of this so-called band are also in the cast, and you can see them all on the official Footloose homepage. David Letterman does not like boy-bands, it's pretty obvious from some of the top 10 lists he's done, and is just doing this to have fun himself.

I hope this clears up the not so mysterious mystery of whether or not this group is real.
Marie wrote in to say
I went to look up Fresh Step at CDNOW to see their "acclaimed CD" for the soundtrack to Talk to the Hand. As it turns out there is no group/artist called Fresh Step. And their record label: Act 5 Management is not a real label. As one viewer mentioned Fresh Step is a brand of cat litter and if they were a true group, there would be some copyright issues. Their Official Website could be better put together by my 7 year old cousin.
Here are the lyrics to Talk to the Hand:
(spoken intro)

Whazzup girl? I know you can't hear the words I'm saying, but
together we can make this love work. Straight up. Just listen.

(singing)

Girl read my lips, the lips of my soul
I was in a billion pieces but you freshed me whole
You're right by my side when fresh comes to shove
You got it goin' on like my name and above up in heaven
I'm in heaven
I'm in heaven

CHORUS

Don't talk to the hand, talk to the heart
We're only fresh together, we can't fresh apart
Girl you're freaky fresher than a fresh work of art
Don't talk to the hand, baby just talk to my heart

I know all your friends say I'm wrong for you
But I'm full of flavor just like beef stew
Girl you're slammin'
Freaky jammin'

Don't talk to the hand, talk to the heart
We're only fresh together, we can't fresh apart
Your body's kickin' and your mind is so smart
Don't talk to the hand, remember to talk to my heart

(interlude)

Too Fresh in the 2K
Fresh Step in the 2K, hey hey
Too Fresh in the 2K
Get Fresh in the 2K

Girl you're high class like a song by Mozart
Don't talk to the hand (it's all fresh)
Angel just talk to my heart
Sorry for all of the graphics. Please be patient while this page loads.
Are these guys for real?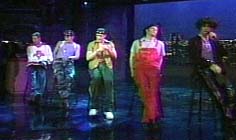 Hmmm... 5 guys sitting on stools.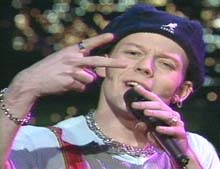 Is that another Trent McJivvers?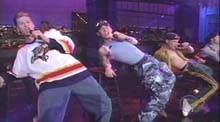 Get Down, Get Down... and move it all around.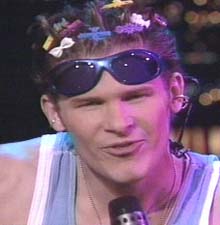 These guys have two AJ's!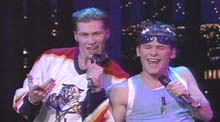 Nick and AJ?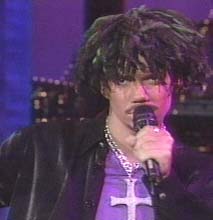 ???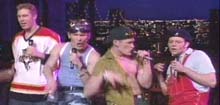 Where's the other one?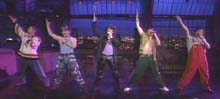 So long boys.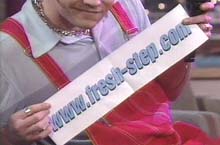 Their official site was lame (and no longer exists).